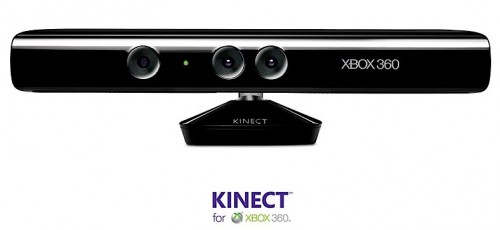 In two weeks Microsoft's biggest Xbox 360 related product is going to be launched. Kinect is Motion Controller that gives the players ability to use full body motion to control games. In Microsoft's words it makes you the controller. Kinect also has in-built microphone array for picking up multiple voices within a room. the product was first announced at the annual E3 game show in 2009. It went down a storm with gamers each of them wondering how it could affect there gaming experiences. The technology that was shown at E3 2009 was reminiscent of the technology dreamt up for the film minority report. while other companies were pushing button based technology such as the newly Playstation move Microsoft has gone button free.
Kinect is set to launch on the 10/11/10 in the united kingdom. there is a wide variety of content at launch with the 15+ titles available. these titles span many different game genres from exercise games to dance games.

Zumba Fitness
Game Party: In Motion
Motion Sports
Kinect Adventures
The Biggest Loser: Ultimate Workout
Kinect Joy Ride
Adrenaline Misfits
Kinect Sports
Dance Central
Dance Masters
Sonic Free Riders
Kinectimals
EA Sports Active 2
Your Shape: Fitness Evolved


This trailer show off a range of experiences that can be had with Kinect. The E3 announcement trailer
Features of Kinect:
-Voice Control: users can utilise voice to command there Xbox using Kinect. Films and Music can be played, stopped, paused in addition to a number of other abilities. Microsoft uses the motto for if you can see it say it.
-Video Camera: video calls can be made between Xbox to Xbox and Xbox to PC using MSN. Kinect has motor in it which enables the Kinect to swivel when someone moves or is about to walk out the room.
-Touchless Menus: players can move there hands in the air to interact with menus.
Reasons why I am buying Kinect:
- Controlling the menus with my hands appeals to me and I think it looks cool.
-Future applications into hardcore games. There has been a number of hardcore games that has already been announced for Kinect. such as Steel battalion: Heavy Armour.
-Its good for gatherings and players can instantly jump into game without game play stopping.
-Finally Dance Central. End of it the best music game that I have played.
Dance Central:
Is a Music/Dance game for Kinect where players have to use there whole body to recreate movements from on the screen. The game teaches inexperience dancers how to dance with the break it down mode. Break it down Mode does what it says on the tin and slows down each move to grades you on your ability.
The Dance Central has a good track list with more downloadable content on the way. Dance Central has jerking.
Audio Push – Teach Me How To Jerk
Basement Jaxx – Rendez-vu
Beastie Boys – Body Movin' (Fatboy Slim Remix)
Beenie Man – King Of The Dancehall
Bell Biv DeVoe – Poison
Benny Benassi – Satisfaction
Cascada – Evacuate the Dancefloor
Christina Milian – Dip It Low
The Commodores – Brick House
Craig Mack – Flava In Ya Ear (Remix)
Dirty Vegas – Days Go By
Eric B. & Rakim – Don't Sweat the Technique
Fannypack – Hey Mami
Jay Sean ft. Lil Wayne – Down
Kool & The Gang – Jungle Boogie
Kylie Minogue – Can't Get You Out of My Head
Lady Gaga – Just Dance
Lady Gaga – Poker Face
Lipps Inc – Funky Town
M.I.A. – Galang '05
Nelly Furtado – Maneater
Nina Sky – Move Ya Body
No Doubt – Hella Good
Pitbull – I Know You Want Me (Calle Ocho)
Quad City DJ's – C'mon N' Ride It (TheTrain)
Rihanna – Pon de Replay
Salt-N-Pepa – Push It
Snoop Dogg/Pharrell – Drop It Like It's Hot
Soulja Boy Tell 'Em – Crank That (Soulja Boy)
Wreckx-n-Effect – Rump Shaker
Young MC – Bust A Move